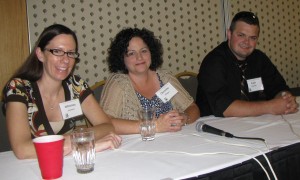 The NSRC's 2012 State Conference took a "Peep into the Past" May 16-18 in Kearney.
Respiratory therapists and other professionals gathered at the Ramada Inn for educational sessions, awards and fun. Check out the photo gallery for more.
Also, please thank our sponsors for their participation in the Vendor Hall and for supporting the conference.
Outgoing President Darcy O'Brien-Ginrich outlined reviewed the goals and accomplishments for 2012 and introduced the new officers. You can meet them here:
2012 Goals and Officers: Part 1