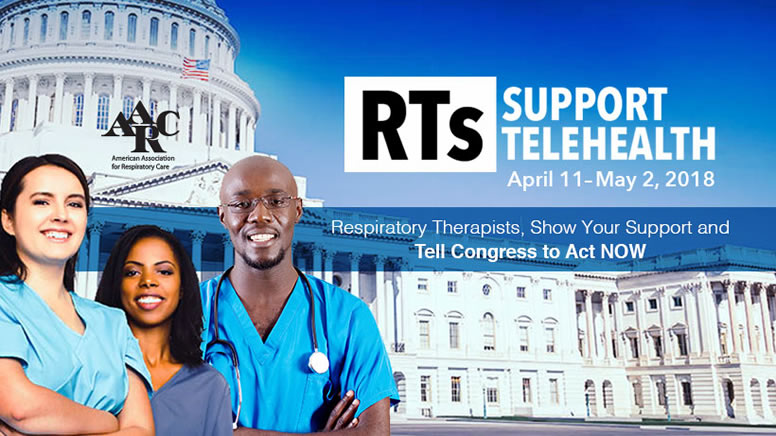 The AARC's 2018 Vitrual Lobby Campain kicked off today and runs through May 2. During this time, the AARC will work to get Congressional support a telehealth pilot focused solely on respiratory therapists (RT) as telehealth practitioners.
"This program will give us the chance to gather information on both the health impact and costs associated with these services," according to the AARC's Virtual Lobby program.  "It will also provide a platform to demonstrate the expertise RTs bring to the health care system and their patients. We've already received positive feedback from key telehealth proponents about the pilot."
Telehealth is fast-growing as a means of health care delivery. "Studies show it can be cost effective, help reduce hospital readmissions, improve medication adherence and keep patients with chronic respiratory disease healthier," according to the AARC.
RTs are not currently listed as a Medicare telehealth practitioner, and recognition of their expertise is long overdue, the AARC says. "Expanding the ability of RTs to deliver important disease management services via telehealth can mean better health, lower costs and a better quality of life for those suffering from chronic respiratory disease."
The AARC is asking its members to contact their Congressional representatives to seek support for this pilot program. Members, patients, health care professionals and other supporters can go to the AARC's Phone2Action page to send emails and make social media posts about the issue.
For more information, contact Nancy Nathenson, PACT Committee member.