Become an AARC member at a discounted price!
Becoming a member of the Nebraska Society for Respiratory Care (NSRC) is making a commitment to the profession of Respiratory Care. You will help us achieve our mission to promote the advancement of the Respiratory Care profession through patient advocacy, collaboration and education throughout the state of Nebraska.
The NSRC is a chartered affiliate of the American Association for Respiratory Care (AARC).  When you become a member of the AARC you automatically become a member of the NSRC.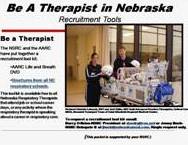 Obtain a AARC discount voucher by contacting Linda Nelson at 308-882-7254. Her email is lnccch@gpcom.net.