NSRC state conference 2018
Register now for 2018 NSRC State Conference

Participants and vendors can now register online for the 39th Annual Nebraska Society for Respiratory Care Conference.
The event ​will ​take ​place ​April ​26-27 ​at ​The ​Graduate ​ ​Conference ​Center ​located ​in ​the ​Haymarket, ​Lincoln, ​NE. ​ ​ From ​acute ​care ​to ​home ​care ​there ​is ​something ​for ​every ​Respiratory ​Therapist. ​Attendees ​will ​enjoy ​dynamic ​presentations, ​fun ​entertainment, ​and ​time ​to ​network ​with ​fellow ​therapists ​from ​across ​the ​state. ​ ​ ​
This ​year ​the ​NSRC ​is ​going ​green. Registration will be done online for all exhibitors ​and ​attendees. ​ ​
Conference attendees may register here: https://www.regonline.com/nsrcgreatplains2018
Agenda
Dr. Brian Walsh, president of the AARC, will be making two presentations at the 2018 conference. On April 26 at 10:30 a.m., he will talk about "The Professional Road Ahead." His topic on April 27 is "Doing More with Data: Respiratory Care in the Age of the Connected World."
Course outline for PFT Forum 4/25/18 (PDF)
Course outline for AARC SNS Ventilator Workshop 4/27 (PDF)
AARC CRCE units pending
PFT Forum: 4.25 hours
Thursday Conference: 7 hours
Friday Conference: 4 hours
Ventilator Workshop: 3.25 hours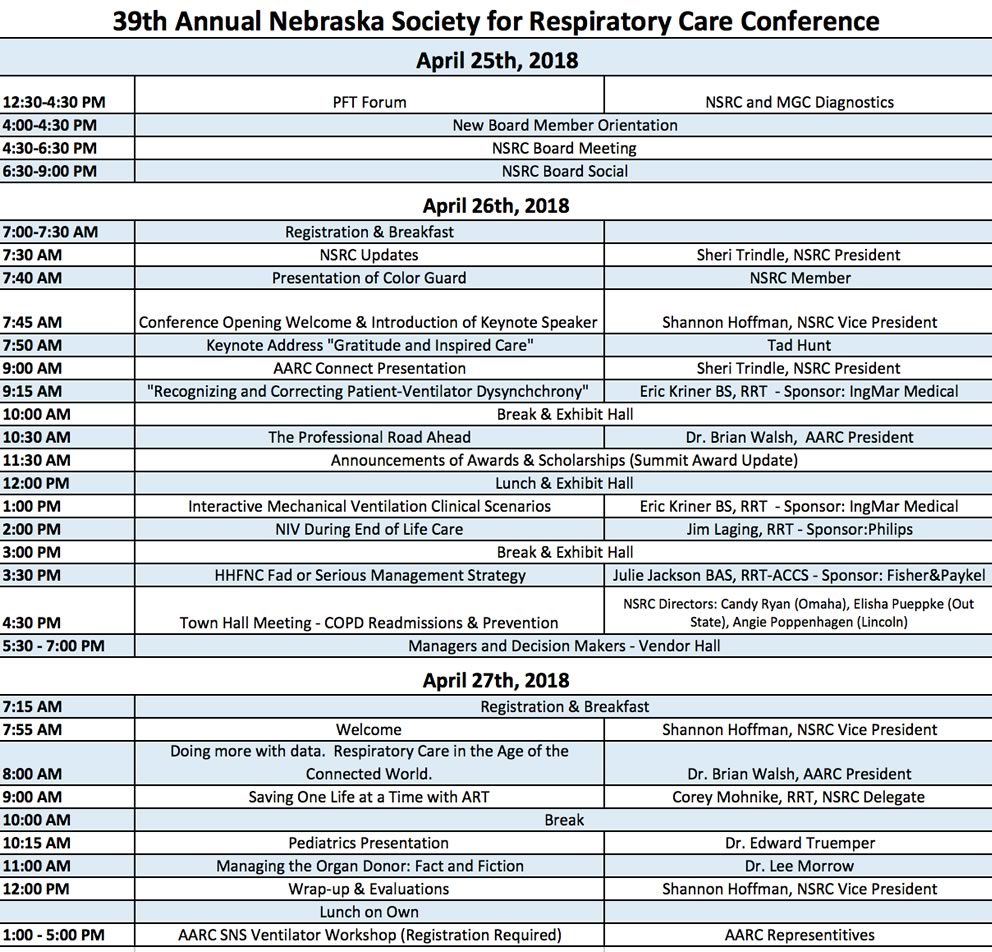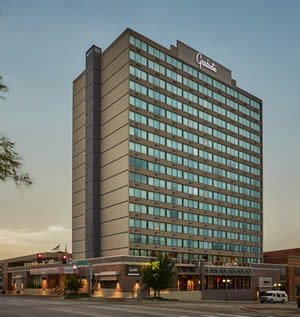 Conference location
This year, the conference is being held at ​The ​Graduate ​ ​Conference ​Center ​located ​in ​the ​Haymarket, ​Lincoln, ​NE.
Location: 141 North 9th Street Lincoln, Nebraska 68508 (402) 475-4011
Blocked room rate: $114/plus tax. Available until April 3rd, 2018.
Entertainment options
Wednesday evening
Social Hour at JJ's Tiki Bar located in The Graduate.
Thursday evening
The Escape Room: Make your reservations at https://lincolnescaperoom.com/  Cost: $20-25/participant
Blazin Pianos at Brewskys starting at 9am. $5 cover.
Husker Baseball: 6:35pm at Hawks Field in Haymarket Park.
Vendor Exhibition Hall
The NSRC conference provides an excellent opportunity for attendees to network with colleagues and visit vendor exhibits. As an attendee the vendor hall presents a place to discover important information about innovative products, and services available to you, as well as your organization.
Exhibitors and sponsors for the 2018 NSRC State Conference can now register online to participate:
https://www.regonline.com/2018NSRCExhibitor
Exhibitor registration fees
Platinum: $2,000 new | $1,700 returning
Silver: $1,000 new | $850 returning
Bronze: $500 new | $450 returning
School/Hospital: $250 new | $225 returning