The Nebraska Society for Respiratory Care was awarded the 2019 Summit Award during the Annual Business Meeting held at AARC Congress in New Orleans on Nov. 10, 2019.
Receiving the 2019 Summit Award in the photo above were, from left: President Lil O'Neill; Outstate Director Kristin Narjes, Past President Lisa Fuchs, NSRC Delegate Shannon Hoffman, Lanny Inabnit from the AARC chartered affiliate committee, and AARC President Karen Schell.
Each year, the American Association for Respiratory Care's House of Delegates recognizes one affiliate for their efforts, achievements and contributions toward the promotion of the respiratory care field and in furthering the level the professionalism for respiratory care and the respiratory therapist.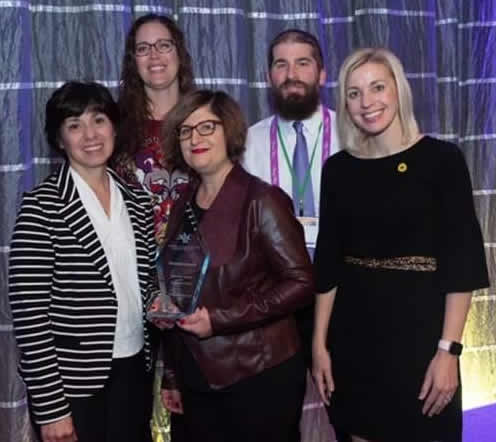 From left: Lil O'Neill, current NSRC president; Kristin Narjes, Past President Lisa Fuchs, Corey Mohnike, Shannon Hoffman.
The House of Delegates is comprised of elected representatives from 50 affiliate societies. Representatives review the activities conducted by the societies over a 12-month period, analyzing their efforts in seven categories: education, membership, advocacy, public awareness, member benefits, collaboration and student activities. The Nebraska Society received high marks in all seven categories.
"I want to express our sincere appreciation and thanks to the committee for recognizing the Nebraska Society for Respiratory Care for the 2019 Summit Award," said Lil O'Neill, Nebraska Society president. "This was the collaborative effort by many dedicated respiratory care professionals who contributed to achieving this award. It is very exciting to be recognized nationally by our peers."
This is the Nebraska Society's first Summit Award.